Today, November 17th, 2016, at 1:30 P.M,  the National Assembly of Belize got a special visit from Our Lady of Guadalupe Primary School from Belmopan. Approximately 49 standard six students and 2 teachers were present at the visit.
They were all greeted by Ms. Eudice Gibson and Ms. Ingrid Soriano  in the Lobby and escorted up to the gallery were they were seated. The students were able to get a firsthand view of the Chamber of the National Assembly where the actual meetings of the House of Representatives and the Senate are conducted. A thorough explanation of the role of Parliament and the difference between the House of Representative (Lower House) and the Senate (Upper House) were given.
The students also had the opportunity to see the Mace which is used in the House of Representatives as a symbol of the dignity and authority vested in the Speaker.
The visit was very interactive and interesting as the students were well attentive during the exchange of information. At the end various questions were asked by both students and teachers.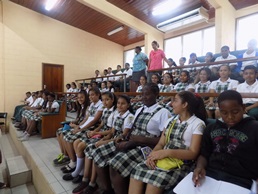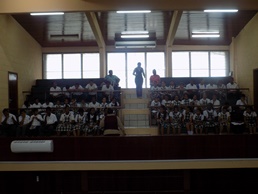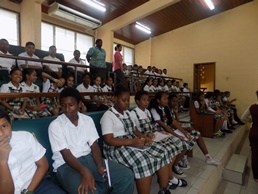 To arrange for a tour of the National Assembly Building, visitors can call the Office of the Clerk at (501)822-2141 or send an email to ClerkNA@bna.gov.bz.